Project Manager, Sara Schmitz, was honored last Wednesday with a company luncheon for her win as "2016 Renodis Employee of the Year". She was voted EOY by her peers and here are just a few nominations showcasing why she is out of this world:
Sara has been a rock whenever she needs to jump in and help out. She is a credit to our team.

Sara goes (and goes) above and beyond to follow up on customer orders, issues, contracts, discos, installs – she rocks!

Sara is accountable and you can always count on her to get things done. She goes out of her way to help the sales rep and the customer to deliver a quality outcome. Thank you for all that you do Sara!

Sara is a shining star and always willing to help out, resolve an issue and can be counted on in ANY situation.

Sara has so much patience. She not only has this beautiful attribute of patience, but has a way of explaining that is so 'learn-able' and 'down to earth'. She truly demonstrates the term "team player".
When she had a free moment from being a Rockstar, we asked her some questions on what makes her so unique.
Q: When did you join the Renodis Team? June 2015
Q: What did you do before Renodis? Worked in the telecom industry for over 20+ years in a variety of positions
Q: How would you describe your experience at Renodis so far? Wonderful. It feels like I've come home.
Q: How do you or your team continue to innovate and challenge the status quo? We consult with each other and use the lessons learned internally.
Q: Where can we find you when you are not at Renodis? With my family and friends or on a new adventure.
Q: In three adjectives, how would you describe your experience at Renodis so far? Thrilled, elated, gleeful.
Q: As a kid, what did you want to be when you grew up? A pilot.
Q: What do you think is the most important quality you need to have for success? Good old fashioned Midwestern work ethic.
Q: What do you value most in a job? The people and satisfaction of doing a great job!
Q: What is your most treasured possession? My Costco Card
Q: What do you consider your greatest achievement? A great network of family and friends
Q: Have any "hidden talents"? Blowing bubble circles underwater while scuba diving.
Q: If Renodis were a TV show, which character – from any sitcom, drama or reality show (of any period) – would represent you? Mork from Ork, Mork and Mindy
Congratulations Sara on your well-deserved employee of the year award and recognition! Thank you for all your hard work and dedication.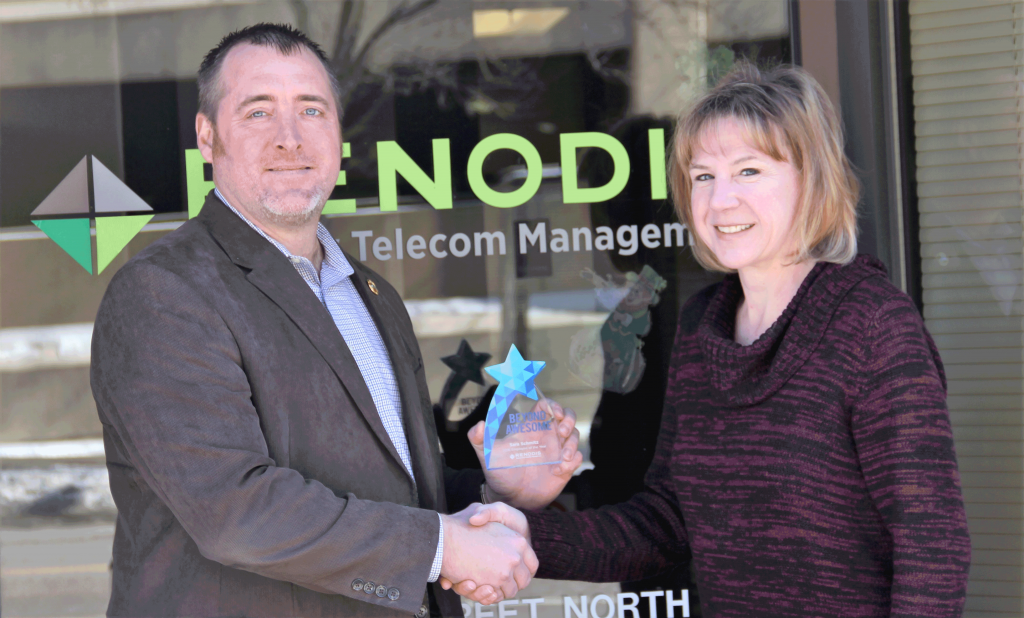 https://www.renodis.com/wp-content/uploads/2017/03/Sara-EOY-2016.png
2592
4296
Heather Melstrom
https://www.renodis.com/wp-content/uploads/2023/09/Renodis-NEW-Logo-design-white.png
Heather Melstrom
2017-03-28 13:30:31
2017-03-28 13:30:31
Employee Spotlight: Sara Schmitz – 2016 Employee of the Year (the Mork to our Mindy)