ST. PAUL, MINN. (PRWEB) MARCH 02, 2022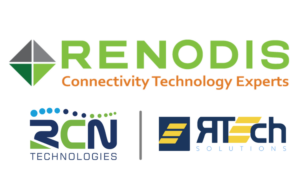 Renodis, a leading telecom management firm, today announced they have acquired a significant stake in RCN Technologies, a high growth provider of 5G and LTE enablement solutions, and RTech, an emerging leader of 'all in one' wireless connectivity Solutions-as-a-Service, both headquartered in Knoxville, Tennessee. Together, Renodis, RCN, and RTech provide seamless, full spectrum wireless communications solutions for enterprises seeking advanced technologies and innovative turnkey 'as-a-service' solutions.
Craig Beason, CEO and Owner of Renodis commented, "Our investments in RCN and RTech represent our third and fourth acquisitions on our continuous growth journey, and position Renodis as a leading provider of 5G and LTE enablement solutions. Renodis' most important priority has always been ensuring the resiliency of our clients' connectivity, advising on the right technologies, and providing best-in-class managed solutions. These investments mark a very important milestone in our continuous effort to ensure our clients have access to the industry's best outcomes, greatest resiliency, and lowest costs, but we are just getting started! We look forward to continuing Renodis' growth through strong customer relationships, meaningful partnerships, and strategic acquisitions in the months and years to come.
Geoff Yearack, Co-Founder of RCN and RTech Solutions adds, "We were looking for a partner to help us broaden our ability to bring real impact to enterprises through our 5G LTE enablement solutions and to fuel the growth of our POTS replacement and other managed "as a service" solutions. Renodis is the perfect partner to help us solve the complex enterprise challenges faced by our clients, and with Renodis' support we intend to continue to bring innovative and leading 5G and LTE enablement solutions to the market.
For 20 years, Renodis has paved the way in client-centric connectivity technology solutions, driving a shift to end-to-end outsourced management. With solutions focused on Consulting, Sourcing, Lifecycle Management, and Expense Management Renodis serves our client's full telecommunications and mobility environments. The Renodis Promise is to free IT leaders from telecom frustration while saving time, money, and increasing productivity.
Minneapolis based Cherry Tree & Associates served as the investment banking advisor on the transaction.
About Renodis
Renodis is a Connectivity Technologies Consulting, Sourcing and Managed Services firm. We help enterprises accelerate their copper to cloud journey resulting in less frustration from managing legacy technologies and suppliers, better utilized IT talent and improved support experience for their offices and people. All while client experience skyrockets and IT costs are reduced. A Saint Paul, Minnesota-based company since 2002, Renodis has helped hundreds of organizations with their communications technology transformations. Find out more at Renodis.com.
About RCN
RCN Technologies is a 5G & LTE enablement specialist for business, providing end-to-end white-glove service to help customers stay connected with Fixed Wireless Service, Wireless Backup Internet, Managed Data, Rugged Connected Devices, and Private Cellular Networks. RCN focuses on providing the best end-to-end consulting, integration, field, and support services and manufactures all-in-one wireless solutions including the PNK, POTS-over-LTE Kit, Public Hotspot Kit, and more. RCN ranks on the Inc. 5000 list and holds numerous top-level partnerships with cellular industry titans. Founded in Knoxville, Tenn. in 2013, RCN has helped thousands of organizations with 5G & LTE-focused consulting, integration, field, and support services. For more information, visit rcntechnologies.com.
About RTech
RTech Solutions is a single-source provider for LTE & 5G all-in-one solutions-as-a-service. RTech delivers customers turnkey cellular services backed by secure cloud-managed, cross-carrier pooled data. RTech's bundled services combine best-in-class hardware, major U.S. carrier data, world-class tech support, and cloud management platforms for one low, fixed monthly cost. Popular services include solutions for converting POTS lines to operate over LTE networks, backup wireless internet, out-of-band management, and more. RTech is headquartered in Knoxville, Tenn. and has been making it easy for businesses to get connected since 2018. For more information, visit getrtech.com.
https://www.renodis.com/wp-content/uploads/2022/03/Renodis-RCN-RTech.png
450
750
Heather Melstrom
https://www.renodis.com/wp-content/uploads/2023/09/Renodis-NEW-Logo-design-white.png
Heather Melstrom
2022-03-02 14:57:35
2023-01-03 15:30:28
Renodis Acquires Significant Stake in RCN Technologies and RTech