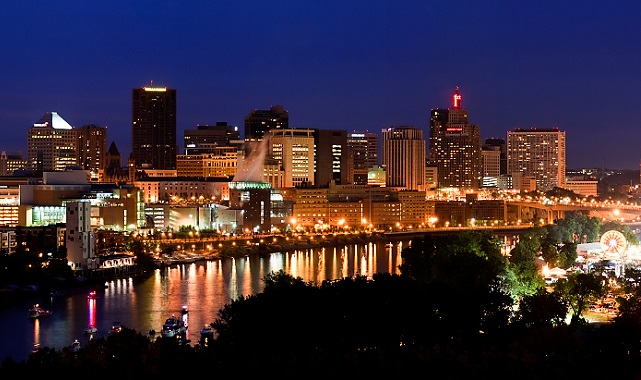 Who says telecom can't be trendy – OR at least headquartered in a trendy location?  According to a recent RealtyTrac analysis, the hippest place in the US has a St. Paul ZIP code: Lowertown 55101 – which is also headquarters of Renodis.
St. Paul Mayor Chris Coleman shares, "I couldn't be more proud of our efforts to create a cool, but not too outwardly cool, vibrant but not too showy, and modern but also retro-feeling culture in our Lowertown area."
What's the Criteria for Determining the Hippest Neighborhoods?
"To select the top markets we started with zip codes with a disproportionately large population in the prime hipster age range — between 25 and 34. Nationally that segment accounts for 13 percent of the total population. We focused on zip codes with more than 20 percent of the population in that age range," says Daren Blomquist, RealtyTrac Vice President.
For this study, they also narrowed the list to areas where at least 20 percent of the population either walked to work or used public transportation to get to work.  The idea is that easily walkable, densely populated neighborhoods are another hallmark of "hip" culture.
Blomquist goes on to say they "narrowed the focus to zip codes where renters accounted for occupancy in at least 50 percent of all housing units, and where the vacancy rate on rental properties was 5 percent or less. All of these filters left us with only 83 zip codes nationwide, and we sorted those 83 zip codes by gross yields based on fair market rents and median home prices to come up with the top 25 list, all of which had gross yields above 4.5 percent."
 Why is this Important?
Well, other than the obvious bragging rights and good food options, RealtyTrac says that such an analysis is important because "the hipster lifestyle has a major impact on local real estate markets, and mostly in a positive way.  Developers have long noted that such areas bring an influx of trendy restaurants, bars, coffee shops and other amenities."
 What Other Areas Topped the List?
Coming in second place was Pittsburgh, followed by Norfolk, Minneapolis, Alexandria, and East Rutherford.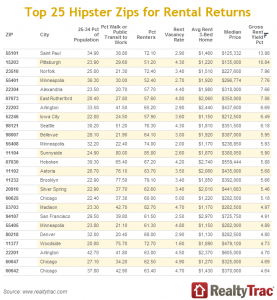 Source: www.realtytrac.com
https://www.renodis.com/wp-content/uploads/2014/01/St-Paul-night1.jpg
380
641
Colleen Kranz
https://www.renodis.com/wp-content/uploads/2023/03/Renodis-H-Logo-No-Tagline-e1678895386469-300x66.png
Colleen Kranz
2014-01-07 09:00:16
2014-01-15 13:56:22
Renodis Neighborhood Reported as "Hippest" Place in the US