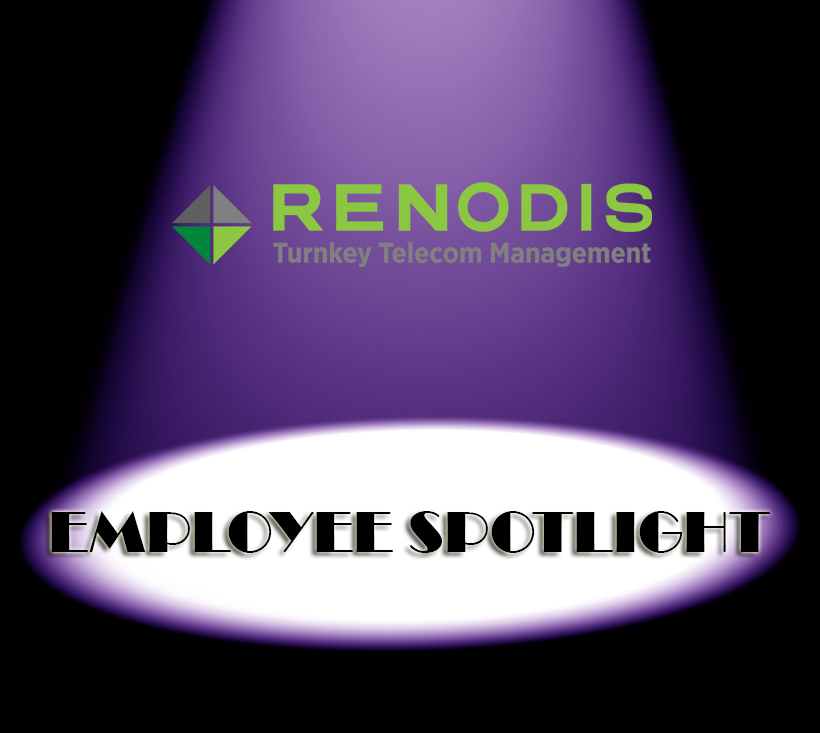 Melanie is a huge contributor here at Renodis and was recognized by her colleagues as Employee of the Year in 2013 as a result. Many years in telecommunications arms her with a breadth of knowledge – she's extremely helpful with wireline issues and currently leads the support desk. You may have also read one of her posts on the Renodis blog! Please take a few minutes to get to know Mell:

Name
Melanie Mortensen
Title
Service Delivery Manager
When did you join the Renodis Team?
Almost 3 and a half years ago, on September 16, 2010
What did you do before Renodis?
I worked for UsWest/Qwest/Century Link in a variety of telecommunications support positions.
How would you describe your experience at Renodis so far?
My experience with Renodis has been an amazing roller coaster ride. It was quite a culture shock going from a large corporation to a mid-size business. Things are so different. I have a voice here – my input matters and I am empowered to make changes that make a difference in our day-to-day operations.
Favorite telecom/mobile gadget or favorite time saving tool
I have to say that it is still Google. Telecom is a huge industry. It is unpredictable and one team of people, regardless of how much experience they have, cannot know everything. I use Google every day.
What do you most like about your work?
I like helping people and solving problems. I started in telecommunication as a residential phone bill collector. From there I did residential sales, then business sales support. I have seen all parts of the dysfunction that is telecom and I enjoy trying to fix it. I also enjoy managing a team. It brings me great satisfaction to see them proud of the job they have done. I feel accomplished when I am able to help them solve an issue for a customers. To me, it is a good day when everyone leaves smiling.
How do you or your team continue to innovate and challenge the status quo?
We provide Turnkey Telecom Management because there is a need for it. Telecom is a very broken industry, but for the most part, the people in it are good hard working people who have gotten into bad habits. They get stuck in always expressing what they "can't" do. I try to teach my team to think of what they "can" do. We can't change the carrier policies, but we can leverage our collective years of experience to find a path around them. We try to operate in the mindset of, "Just because it has always been that way does not mean it has to always be that way". It helps us approach things differently to hopefully get a better end result than our customers could have gotten without us.
Do you have a thought-leader or person you admire in your field or industry? Who and why?
Sean Buckley of Fierce Markets. He is an editor for the "Fierce" suite of websites. I find his articles up to date, helpful and informative. Thanks to him, I can keep up with wireline, wireless, cable and unified communications with a couple clicks. FierceTelecom is my home page.
What are you most looking forward to in the years ahead as you continue your work at Renodis?
Seeing where we end up. We are at the beginning stages of something no one else in the industry is doing. We have doubled in size since I started and we continue to grow daily. The hours are long and the work harder that I have ever done, but I know it will be worth it. Being in on the ground floor is pretty exciting!
Where can we find you when you are not at Renodis?
At home with my husband Tom, and our three boys Christian (20), Jonathan (15), and Matthew (12), or at the YMCA teaching fitness classes part-time.
What has been your biggest life accomplishment to date?
Aside from being awarded the first ever "Renodis Employee of the Year" award, I would say my marriage and my children. Everything I do, I do for them. They make me proud every day.
If you were a superhero, who you would be?
Jean Grey aka "The Phoenix". As one of the most powerful telepath's in the world, Jean Grey is easily the most powerful member of the X-Men team and most powerful female in the entire universe. Her powers are only limited by her own mind. Not only is she a telepath but she's also a telekinetic. She has the ability to move objects just by thinking about them. Jean is scary powerful but when she transforms into The Phoenix, she's just scary. Her powers become incredibly unpredictable and are seemingly endless. I like her because even though she is strong, she has a soft side, and a conscience. She shows compassion and kicks butt. THAT is the whole package.
https://www.renodis.com/wp-content/uploads/2013/02/Employee_spotlight_telecom_expense_management.png
733
820
Tiana Tharaldson
https://www.renodis.com/wp-content/uploads/2023/09/Renodis-NEW-Logo-design-white.png
Tiana Tharaldson
2014-02-05 15:55:54
2014-02-05 15:57:25
Employee Spotlight, 2013 Employee of the Year, Melanie Mortensen