"Renodis has been a game changer for DRC." – John Bandy, CIO & MSPBJ CIO of the Year
John Bandy, CIO at Data Recognition Corporation, knew they needed to "think differently" if they wanted to focus on differentiating their business.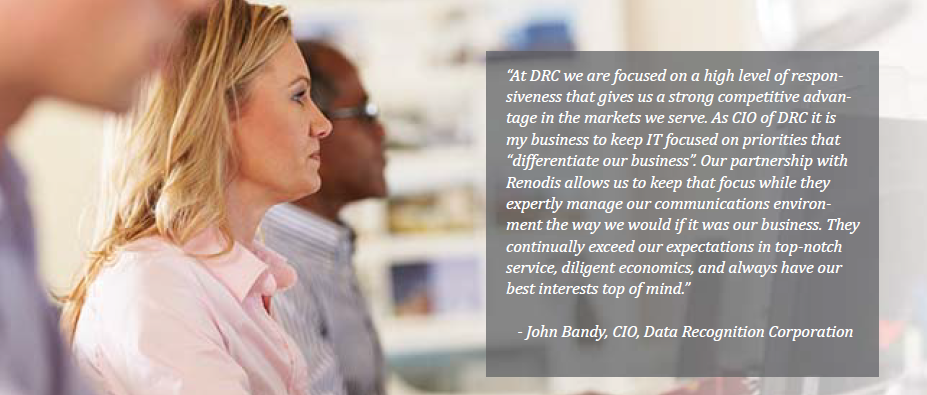 INDUSTRY: Commercial Scientific Research Services
NUMBER OF LOCATIONS: 10+
NUMBER OF EMPLOYEES: 600 full time, 3000+ seasonal
PRIMARY BUSINESS DRIVER: Driving innovation and technology, agility, client experience, responsiveness
CHALLENGE
Business Challenges
"Seasonal" environment causes peak times that require higher level of services and customized cost-effective solutions
Challenging telecom financial management process, controls, and visibility
Communications Challenges
Employee changes caused uncompleted projects resulting in duplicate services and invoices
Needed proactive MDM support
Limited telecom expertise and experience
Poor carrier visibility and support
Struggled with ongoing management of communications services billing and cost allocation
SOLUTION
TCM is the industry's First Turnkey Communications Managed Services solution focused on a seamless and superior experience for clients.
End-to-end management of all communications
Managed with first communications ERP Renodis Vision™
"Un-telecom" experience
Based on 5 Management Disciplines
– Technology Mgmt
– Asset Mgmt
– Vendor Mgmt
– Financial Mgmt
– User Support Mgmt
RESULTS
Renodis' TCM Solution measures, then maximizes value within four key dimensions. This allows visibility and shows specifically how TCM has added value.
Technical
Renodis monitoring solution, Beacon, improved response times and reduced downtime
Customized solutions put in place handle seasonal spikes
Reduced security risk due to enhanced MDM management
Economics
Audit and financial management resulted in ongoing cost savings of 20% in Wireline and 50% in mobility
Improved monthly reporting and visibility of communications services billing
Renegotiation of MDM contract resulted in 30% savings
Support
Help desk integration increased internal productivity
Accurate, real time visibility of communications services assets and inventory
Renodis project management office assisted with relocation of data center facility
Business
Improved focus on IT related initiatives and technology to drive business value
Ongoing cost optimization to manage costs and improve financial performance
Improved employee productivity as a result of professional management of communications
https://www.renodis.com/wp-content/uploads/2017/04/DRC_logo.jpg
287
287
Nathan Almquist
https://www.renodis.com/wp-content/uploads/2023/09/Renodis-NEW-Logo-design-white.png
Nathan Almquist
2017-04-20 13:20:57
2017-04-24 15:36:21
Data Recognition Corporation (DRC)