CIOs Against Cancer
CIOs Against Cancer is an influential group of enterprise technology leaders (TechCXOs) that have the passion, expertise, and resources needed to change the course of cancer in our workplaces, communities and beyond. Members of CIOs Against Cancer collaborate and leverage their influence to raise awareness and funding – and to lead the fight for a world without cancer.
JOIN US!
WHY JOIN?
As business focused leaders, CIOs understand that cancer is not only a health issue, but also a core business issue.
Noncommunicable diseases (NCDs), like cancer, heart disease, and stroke, currently account for 63 percent of deaths.
Over the next 20 years, NCDs will cost the global economy more than $47 trillion, or 75 percent of the global GDP in 2010.
Health related productivity losses cost US employers $225.8 billion annually.
An analysis of health care expenditures indicates that while cancer related disease accounted for 1 percent of a typical employer's health care claims, it equated to 10 percent of health care cost.
CIOS AGAINST CANCER GUIDING PRINCIPLES
Help resource the fight by leaning in and assisting in American Cancer Society fundraising efforts

Build engagement

through supporting and participating in CIOs Against Cancer initiatives

Promote workplace health & wellness

through prevention and early detection
*MEMBERSHIP CALL TO ACTION*
CIOs Against Cancer was developed for TechCXOs of companies with 500 + employees. Members are selected and recruited based upon the recommendations of existing members.
CIOs Against Cancer members are

C-suite Technology Executive leaders

and organizational influencers. (CIOs, CISOs, CTO, CDOs, etc.)
Members agree to participate in initiatives and support by

committing to fundraise or donate to the best they are able

. We work together to promote a culture of health and lead/influence in the fight against cancer.
CIOs Against Cancer members can

appoint an executive liaison

to help facilitate the goals and objectives of the group.
Preview of 2022 CIOs Against Cancer Initiatives
CLAYS FOR A CAUSE: Where IT Attacks Cancer – Sept 19th, 2022
Our annual, signature clays shooting event at the Minnesota Horse & Hunt Club, Monday, Sept 19th, 2022. Event includes team participation, sponsorships, live and silent auction, speakers, and flurry competition. For the first time in 2022 we are holding a beginner's clinic prior to the event to get new attendees up to speed.
Watch the story below of Clays for a Cause, an event supporting the American Cancer Society, hosted by Jeff Mader, CIO of Sun Country Airlines and Renodis
CIO AUCTION AGAINST CANCER – Spring
Due to the fundraising success of the first CIO Auction Against Cancer in 2021, we will be holding a 2nd annual CIO auction in the spring of 2022. Participating CIOs donate a lunch hour to be auctioned off to the highest bidder.
WE COLLABORATE AS A POWERFUL GROUP OF TECH LEADERS – Biannual in-person CIO meet up
For the first time we will be meeting as a group two times per year. We use this time to reignite our fire, network with our peers, and support our mission of raising awareness and funding for The American Cancer Society.
HOPE LODGE: We support cancer patients/caregivers – Dec 2022
The American Cancer Society Hope Lodge program provides a free home away from home for cancer patients and their caregivers. The Minneapolis and Rochester Hope Lodge facilities need some help and upgrades to their kitchens, flooring, and technology.
CIO Cancer Crusher of the Year Award – Announced 2023
COLLABORATIVE PARTNERS
Strategic Partner – CEOs Against Cancer
CEOs Against Cancer is a powerful group of executives committed to saving lives and improving their company's bottom line. CEOs from the world's top companies are uniting to change the course of cancer to leverage the collective knowledge, power, and resources of the American Cancer Society.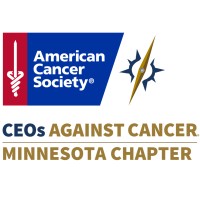 After co-hosting the Clays for a Cause charity event benefitting The American Cancer Society in 2020 and 2021, Renodis is honored to support the CIOs Against Cancer Community.
Renodis works with IT Leaders across the country to accelerate copper to cloud technology transformation through agnostic, client-centered consulting, sourcing, and management of connectivity environments.